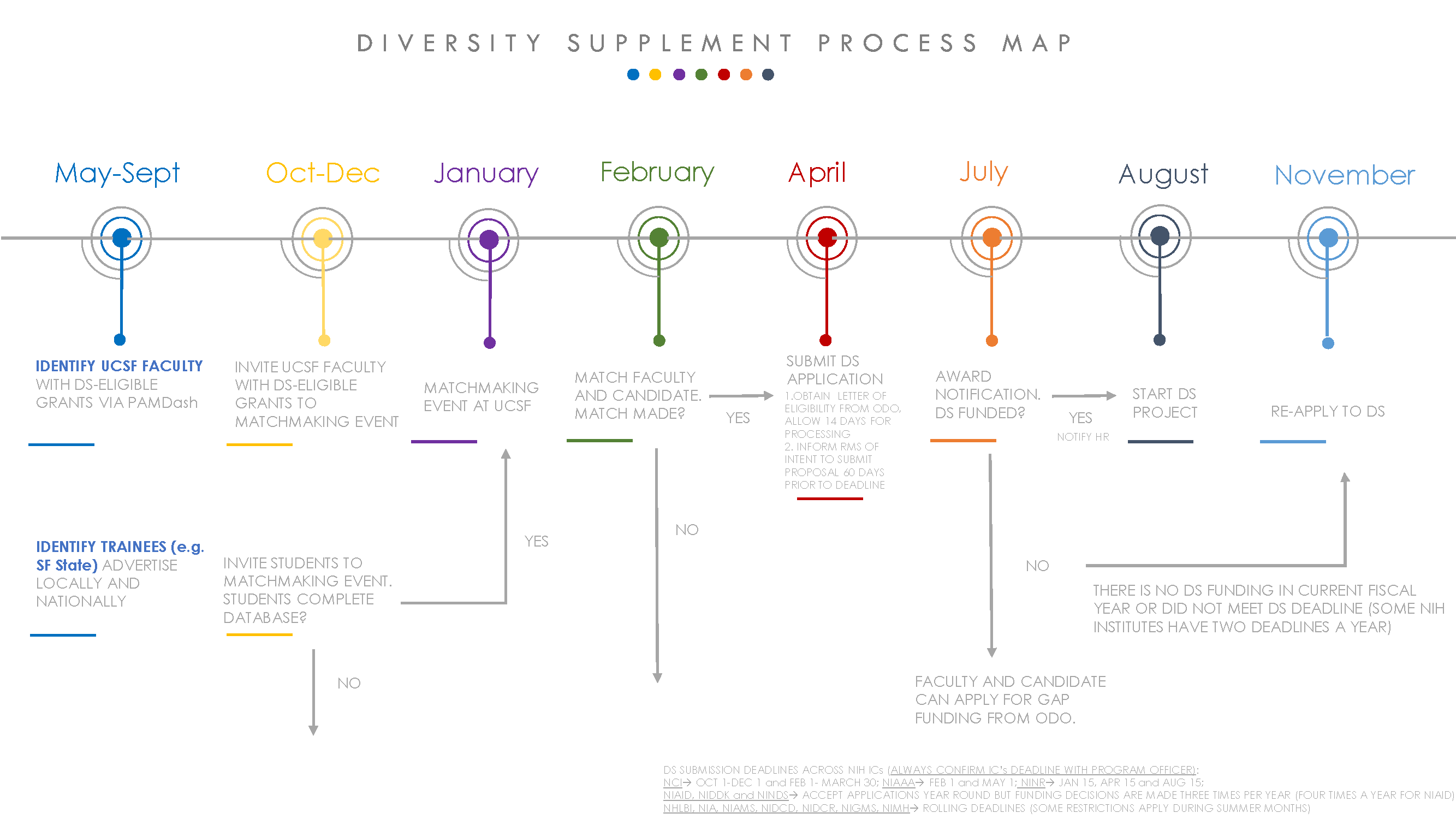 Below are some frequently asked questions we've received from interested in NIH diversity supplement funding. For additional information, please visit our UCSF website on diversity supplements (https://guides.ucsf.edu/rdo/diversitysupplements) or the NIH RFA (PA-21-071).
After the Matchmaking Event, what should my next step be?
For next steps in applying for a diversity supplement, please check out this RDO website. It has a lot of great information to get you started (including sample, successful diversity supplement applications). You will also want to reach out to your regular pre-award person if you decide to apply, just like any other grant. I have also attached the slide deck we used at the matchmaking event that has some helpful information.
Who is eligible for a diversity supplement award?
Parent awards: The PI must have an active NIH award, typically an R01 or R35, that has at least one year left before it is due for a competitive renewal at the time of the start of the supplement. More information is listed here. You can also check to see if your award is eligibile using a tool called Grant Bridge. 
Trainees: The trainee named in the diversity supplement application must identify as belonging to a race or ethnicity that is underrepresented at UCSF.  This includes racial or ethnic groups identified by the NSF as underrepresented in science (such as Black/African American, Hispanic/ Latinx, American Indian/Alaska Native, Native Hawaiian/Other Pacific Islander) as well as other groups not on that list but that have been recognized as underrepresented at UCSF (such as Filipino, Hmong and Vietnamese).  Alternately, if the individual comes from a financially disadvantaged background or has a disability, he or she may also qualify. More information can be found here. NIH guidelines state that trainees supported through diversity supplements must be U.S. citizens or permanent residents, you can read more here . Diversity supplement candidates may be considered for a supplement at the following career stages: high-school students, undergraduate students, post-baccalaureate and post-master's degree students, pre-doctoral students, postdocs, and faculty. More information is listed here. Importantly, most NIH Institutes do not allow a trainee to be listed as a diversity supplement candidate if they are already listed as personnel in the budget section of the PI's parent award.  Ideally, the trainee would be a new member of the PI's lab who has not received any salary support from the parent grant, but exceptions can sometimes be made.
Regardless of the parent award and trainee, you  should talk to two NIH contacts before you apply: your award's current program officer, and the program officer  that oversees the diversity supplement program for the parent award's institute (a list of contacts can be found on the NIH website).  
What types of positions can be funded?
This depends on which institute you are applying to.  Most institutes fund undergraduates, post-baccalaureates (Junior Specialist level), and graduate students.  We are focusing on the Junior Specialist level with the database and the matchmaking event since most institutes will support trainees at this level, and students at this level might be most interested in a short (1-2 year) research experience before moving to their next career stage. More information is available here. 
Once I identify a candidate in the database or at the matchmaking event, what are the next steps?
That is up to you!  Our goal is to help make matches--once you find a candidate you are interested in, you can take it from there as you would with any other hire.  If you both feel it is a good fit and want to go forward with the process, contact your award's program officer and the program officer that oversees you institute's diversity supplement portfolio (listed here) for advice on how to assemble your application.  Once you have gotten their advice, you should reach out to your Research Services Coordinator (use the Find My OSR Staff tool here). They will help you prepare and submit the application, same as for any other NIH grant. The deadlines for diversity supplements vary by institute, so make sure you check (and double check) when your application should be submitted (deadlines listed here). You should also thoroughly review the UCSF website we've developed, including our library of successful proposals. We're happy to help too!   
What are the most important parts of the application?
The goal of the diversity supplement program is to increase career advancement opportunities in science for individuals who identify as belonging to an underrepresented or disadvantaged group.  Therefore, the most important part of the application is the training plan, where you outline with specifics what the background and career goals of the trainee are and how this experience will benefit those goals.  It is important to make this part as specific and individualized as possible so NIH can see you take the training/mentoring aspect of this opportunity seriously.  If it is accurate, it is also helpful to indicate that you will support the trainee with other funds after the diversity supplement has ended. This shows that you believe the trainee will be valuable to you even when you have to pay his or her salary and it amplifies the effect of their investment in the training of underrepresented and disadvantaged trainees.  It is also useful to provide evidence of your mentoring abilities, particularly of underrepresented minorities if you have had that opportunity, by describing your mentoring philosophy, where your trainees have gone off to after leaving your lab, and other mentor related activities (such as mentor training you participate in, etc.).   
What are the least important parts of the application?
In comparison to the mentoring statement, described above, the project plan is much less important.  The supplement application is only reviewed administratively (not by a study section), so as long as the project is reasonable and fits within the broad scope of the parent grant it should be fine.  Check with your program officer about whether it needs to be within or separate from the Specific Aims of the parent grant - this has varied from institute to institute and within institute over time. 
What are the odds of success?
We are working to get this data, but it seems to be very high--probably well over 50%.  If you (1) identify a candidate who is clearly eligible (i.e., you are not trying to stretch beyond the spirit of the program); (2) get the program officers' approval ahead of time; (3) write a convincing mentoring statement; and (4) respond diligently to any requests from NIH after you have submitted the grant, your chance of success should be very high.
Can a DS fund a training for part time work (i.e. not a full time position)?
I have not heard about any restriction that requires that the recipient be employed full time.  If a part time position is well justified, it would probably be okay but, as always, contact the PO to be sure.
Can I apply for an NIAID supplement (e.g., by April 1) even though she is not yet hired?
Yes—I usually start writing/preparing the DS application while the HR process is underway and then submit it to NIH before the person starts in my lab.  This has the advantage that you avoid the problem where the person can become ineligible if they are paid off the parent grant before the application is submitted.  Note, in my experience, I have been able to pay the person off the parent grant while the application is pending, but you should check with your PO if this will be the case for you.  This timing has the disadvantage that the person is not formally committed to come to your lab until they sign the offer letter, so it is possible that you will submit the application and then they do not come (this seems like a minor risk—it hasn't happened to me before).  Note also that the trainee will need her/his/they own eRA Commons ID and that can only be issued by a University.  Since she won't be a UCSF employee yet, it will be easiest if she is affiliated with another university (e.g. she is still a student somewhere) that can create the ID for her.  We have had trouble getting UCSF to issue eRA Commons IDs for people who are not affiliated with the university.  
Can one apply for 2 years or it goes year by year?
(from Todd Nystul) I always ask for two years of funding (if I have 2+ yrs left on the grant) and sometimes I get two; sometimes I get only 1.  I think it depends on how much funding they have available at the time.  Usually they don't let you apply for a second year of funding after you complete the first year, but one time they granted me an exception and let me have two back to back 1-yr DS for the same person.
Any coordinated effort or recommendation how to get the eligibility statement form signed? Is it typical to ask the candidate to fill out the info or do we use the database you provided?
Yes, you should ask the candidate for this information.  It is important that they self-identify with the qualifying category.  We are not coordinating with Renee's office to get the letters signed.  Note, it often takes them a while to return it so I recommend submitting it to them as soon as possible.
Difference between Propel vs Diversity Supplement
Propel is a post-bacc program that provides career development, lab mentorship, and networking for URM post-baccs that are already working at UCSF. In its pilot year it provided a modest financial incentive (approx. $10K) for faculty hiring managers but the salary primarily came from another source. More information on Propel here. Several of the Propel scholars are paid through a diversity supplement they applied for with their mentor. However, you do NOT have to have a diversity supplement to be in Propel nor do you have to be in Propel if you are funded by a diversity supplement. It is also not guaranteed that you will be in Propel if you get a diversity supplement (there is an application process). They are separate things but work well together. 
How does the timing of this all work out? My schedule is already very tight, so I just want to be sure that if I move forward with applying for either/both of these funding mechanisms, that I don't get left without a matched mentee. Does that happen often?
This is unfortunately a risk in this process and there is no surefire way to guarantee that the scholar will come after you have put in the work to recruit them and write a DS application.  I think the best way to proceed is to first get a verbal commitment from the scholar, then start the DS application, and involve them in the process.  These two things help to give them some buy-in into the process and makes them more likely to come. At the same time, get the process started with HR because that can take 4+ months to complete.  If you want, they can also tell them about PROPEL, which may help them get excited about the opportunity.  Please review PROPEL's eligibility page to make sure they qualify. Since they participated in the Matchmaking Event, the main reason they wouldn't qualify is if they are not interested in going to a PhD or MD/PhD program after their time in your group.  You can wait to apply for PROPEL until after they join your lab, if you want. 
Can a successful candidate can be in school at all during the time of the diversity supplement.
The short answer is that, in some cases, DS awards can be awarded to students who are still enrolled in school.  Our team would not be able to give you a definitive answer about eligibility in this case.  I would strongly recommend reaching out to your PO for clarification on this.
Can you please clarify whether it is acceptable to pay a student from a non-NIH source (e.g. a gift fund) while working on a Supplement Application, or would that disqualify them?
This is a bit of a grey area—I think that, technically, you can pay from a non-NIH source while working on the supplement application, but it runs a little against the spirit of the program, which is intended to bring a new person into your lab.  If they are already there, getting paid from another source they aren't "new" in the same way.  However, I have seen this work in the past—in fact, I did it once with a grad student in my lab after her scholarship ran out.  However, it is better to just submit the application before they join the lab if possible.
Are Filipinos eligible - is it your understanding that UCSF can make a successful case in support of a Filipino applicant because people from this background are are underrepresented (in science) at UCSF or do they also need to qualify in another category (ex: first generation, or economically disadvantaged)? 
Yes Filipinos are eligible at UCSF. In our discussion with Desirée Salizar, who was running the Diversity Supplement program at NIGMS, she told us that the NIH would consider ethnicities that are underrepresented at the host institution, in addition to those listed on their website.  I spoke with D'Anne Duncan about this and, in combination with other considerations that were already underway, they decided to formally designate Filipino's as underrepresented at UCSF (see here). Additionally, Raushanah Newman, Office of Research Training and Special Programs (ORTSP) at DHHS/NIH/NIAID/DEA said that we just need to state "Filipino's are underrepresented at this institution and on a national basis." There certainly could be differences in policy between NIH Institutes or, even if not a formal difference in policy, then different priorities for what types of diversity they want to fund. We always suggest checking with your program officer if in doubt. 
Do candidates need to have abstract/publications? 
There seems to be some gray area around this. I (Todd Nystul) have been awarded 7 diversity supplements from the NIGMS and this particular issue has never come up for me.  I went back to review my recent applications and I see that most did list at least something in this category.  However, for some, they are not particularly significant:  for example the only thing that my current awardee listed was a paper "in prep," which is not typically considered to be evidence of productivity since this term is used so broadly.  The applicant I matched with at this year's event will only be able to list a poster presentation from an event at her undergrad institution and something that sounds like it came from a class at her community college ("The Antibiotic Resistance Effect of E. Coli in the Presence of Herbicides and Antibiotics. Ecology Research Project for Organismal Biology Course at Los Medanos College, Pittsburg, CA. 2019.").  Could your applicants list something like this from a lab class?  If so, would that satisfy the requirement?  
Do you have a sense for the budgets outside the salary of the candidate that tend to be acceptable? 
In my experience, they are only interested in funding the candidate, not the research costs (though sometimes you can request a couple thousand dollars for supplies).  I suspect the policy on this varies by Institute, so I would recommend reaching out to your PO with this question.
Advice on getting the letter from ODO certifying the DS candidate
PIs must get a letter from ODO that certifies the candidate qualifies for a DS. Depending on the institute the DS is from there might be specific requirements (like if the student isn't at UCSF the letter has to be sent by the student and not the PI). PIs should check with their program officer to confirm.
Where to ask for eligibility letter:
The letter comes from the Office of Diversity and Outreach, you can use thier general email: [email protected] but another faculty member applying also spoke with Tiffani Chan [email protected] in their office. She helped explain the requirement and might be able to help if you don't hear anything. They do ask for 2 weeks to process the letter.
This seems like a bit of an impossible catch-22 and I'm afraid this is starting to seem not feasible. I feel badly I can't guarantee this candidate a position without this supplement. Perhaps the only way to really do this is to already have other funds and have this person in your employ and then shift it over to this IF you are able to get it? That would seem to undermine the whole purpose though as, in that case, it's not creating any new opportunities for anybody. I don't currently have funds to support another person for work related to this R01 without the supplement.
Unfortunately, this is a bit of a catch-22. The way it often works is that one needs to have a secondary source of funds to pay the candidate until the diversity supplement goes through. If they are already hired at UCSF before you submit the diversity supplement, they need to be paid from a source other than the parent grant for the diversity supplement. If you apply for the diversity supplement before they are hired, then you can use the parent award to fund any gaps before the DS is funded. You should talk to your PO to get a sense of their funding rates for DS and timelines, and then talk to the candidate about their flexibility for waiting for the DS application process. 
I'd like to proceed with hiring them as a Junior Specialist, and reached out to my HR department to begin that process. HR has told me I need to post the position-- do you know if this is the typical hiring process for trainees through this program? HR mentioned I might be able to obtain a waiver to hire without posting, but my HR contact was unaware how hires for this program are normally done.
It involves writing to HR to say you want to open a Junior Specialist position and sending them the candidate's CV and unofficial transcript.  Then, they send you a template for the job description and you fill it out to, as closely as you can, make the description match the candidate's qualifications.  They will help you with the process from there.  It takes about 3-4 months to onboard someone.
Specifically seeking information about the dollar amount difference between what is covered by a DS and what needs to be covered by the department:
What are the costs for different levels of diversity supplement learners (high school, undergraduate, postdoc, etc)?
How much is funded by the diversity supplement for each level?
The answer to these questions (unfortunately) is that it depends on many factors—the costs depend on things like the number of hours worked, the pay rate, the job title, etc., all of which varies substantially at each of the career stages/levels you listed.  Likewise, the amount funded by a diversity supplement will vary substantially, based on the NIH Institute, the career stage, the amount of available funds, etc.  My main experience is with applying to NIGMS for a diversity supplement to cover a Junior Specialist, step 1.  In that case, the costs are approximately $60-65k/year and the diversity supplement funds approximately $50k/year.
The person I recruited after the Matchmaking event will start June 6.  I have not heard back regarding the Diversity Supplement that I submitted. Is your advice to start her on the same NIH grant associated with the Diversity Supplement application, put her on a different NIH grant, or use non-NIH funds to support her until I hear about the supplement?
With the usual caveats that you should check with your PO and we can only speak from our own experience, I would say that yes, that is a good plan.  I also applied for a DS to support a candidate who will start on June 7.  I don't expect to hear back about the DS until sometime in July.  In the meantime, I will pay her from the parent grant, which I have been told is okay because the application has been submitted.
How to pay the part of the trainee's salary the the DS does not cover
This is a matter of debate among post-award folks. Some have allowed the gap to be paid from the parent award itself. I don't see why this couldn't be allowed if there are funds available on that award. If there are no funds available, then other funds would be necessary. I don't know if a fraction of a scholar's effort can be put on a diversity supplement and the remainder of effort be put on another grant, or if it has to be from a discretionary source. This is a complicated debate, and I would advocate for the gap to be covered by the parent award, some faculty have done this successfully for several scholars. 
How long does the application process take?
In our experience, it takes about 12 weeks to prepare a supplement, and another 12 weeks for the supplement to be reviewed. 
Below is a process map to help plan the submission of your diversity supplement proposal, this is a suggested timeline and depending on the IC from NIH that you are applying this timeline will likely change. Please make note of the internal processes, UCSF entitites, timelines involved in the submission process of your supplement.